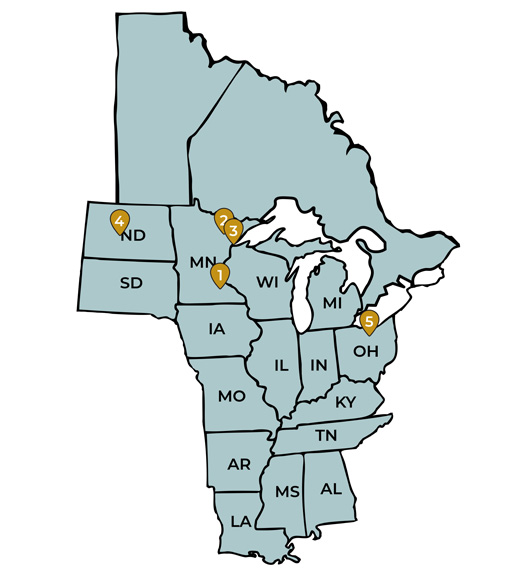 Midwest Region
EnviroTech Services is focused on extending our role as the industry leader in deicing & dust control throughout the Midwest portion of the country. We've invested in new plants and locations, expanded our employment pool, and introduced our proprietary, enhanced products to the market.
Infrastructure

The Midwest saw harsh and record breaking weather events in recent years. You need a partner that can manage these fluctuations and be there for you no matter what the weather brings. With storage, rail, and trucks, we have the infrastructure and inventory to meet your demands year round.
Unique Products

Many Midwest states have traditionally treated roads with straight white salt and other commodity products. While we believe these legacy products are useful, we also offer new enhancements to these products to boost their effectiveness. These enhancers also minimize negative environmental impacts to plant life and natural habitats. We continue to strive to push the standard for the industry forward.
Oil & Gas and Mining Focus

We're proud to be a reliable road solution partner for oil and gas, fracking, and construction companies in North Dakota, Wisconsin and neighboring regions. These emerging energy and construction markets rely on our dust control products to keep roads clear and road maintenance costs in check. As these markets continue to expand, we'll be here to maintain safe travel to and from major hubs and across entire transportation networks.
Phone Numbers
| | |
| --- | --- |
| Midwest Administration Office | 800-577-5346 |
| Midwest Orders | 800-881-5848 |
| Corporate/Administration | 800-369-3878 |
| EnviroTech Commercial Orders | 303-477-1919 |