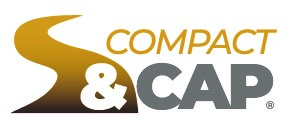 Delivering Superior Compaction and Dust Control
Compact & Cap, the innovative road, lot and pad maintenance program controlling road dust and ensure smooth and safe surfaces.
THE program delivers superior compaction and dust control to all gravel surfaces. A proven solution to optimize compaction, integrating products that seal, stabilize and cap the road surface. This leads to overall maximized compaction.
In order for dust control products to work effectively, the road must be 85% compact. A loose road base allows dust control agents to absorb deeper into the road, resulting in a diluted product and loss of product effectiveness. This is why compaction is so important to the process. Capping the road protects the improved base. The combination of these actions produces a longer lasting smooth surface.
A Long-Term Solution to Protect the Road Base
A factor to consider is the base, which varies based on types of aggregates and local soils. Different solutions are required to meet your unique requirements.
The correct combination of road stabilization products and with the right cap along with a road maintenance program helps you to achieve your goal of creating a longer lasting road. This capping process keeps dust and gravel in and Mother Nature out. With innovative products and processes that work on nearly all prepared surfaces, the sitespecific combination is developed with the customer depending on the type of road to create a solution you can count on
Science Behind Compact & Cap
EnviroTech's Compact & Cap program has been extensively field tested for a variety of environments and soil types, and is proven to work with heavy traffic loads and with most road base types. This program is designed to combat difficult to maintain gravel roads, pads and lots, providing a smooth stabilized surface. It has been engineered to give you longevity and decreased total cost of ownership
---
A soil stabilizer and road base additive to save your road base
BaseBind can be mixed into a variety of road bases, including recycled asphalt, or applied topically depending on the goals of the application. BaseBind was developed by ESI's R&D lab to address how the benefits of lignosulfonate could be replicated without being solely reliant on the diminishing supply sources, and the other disadvantages of working with the highly viscous product. Like any properly developed product, EnviroTech spent extensive time and resources testing BaseBind to ensure its performance and veracity. BaseBind compliments ESI's Compact & Cap™ program, a custom approach to optimizing road maintenance performance.Whether extending the life of a road, managing a construction project, or maintaining a drilling pad, BaseBind can be tailored to meet your needs. Please download the brochure and contact us to learn more about how BaseBind can serve your needs.
Ultra-low chloride based formulations utilizing agriculturally derived, complex organic polymer
These polymers function to keep the surfaces of several types of road base stable and dust free while maintaining a road surface that is flexible and water resistant. X-Hesion Pro is an ultra-low chloride based dust control product that helps to limit the amount of chlorides introduced into the environment versus traditional dust palliatives. The enhanced X-Hesion Pro formulation is both more effective at drawing/retaining moisture and is more weather resistant. The result is a stronger fine particle – aggregate matrix that reduces dust to a PM10 standard and yields a road surface that is compact, water resistant and durable.
Road surface preparation is extremely important in all application techniques. However, these preparations do not need to be time consuming or costly. The better the road conditions, the more successful the application will be.
The following four factors work together to achieve optimum results:
Quality and Composition of Aggregate
Road Preparation
Compaction
Application
X-Hesion Pro can be used on the following surfaces:
Unpaved state, county and township roads
Quarries/mine/haul roads
Orchards/agricultural roads
Federal/state parks
Military roads /federal projects
Private and rural roads
Parking lots
Tree/flower/shrub nurseries
Airfields and helicopter pads
Feedlots
"X-Hesion Pro has made our dust control measures and program more cost effective without a large change to the processes."
-Grant Smith, Manager at Transit Mix Aggregates-Daniels Sand Division
---
ENVIRONMENTALLY FRIENDLY DUST CONTROL
DuraRenu allows you to be environmentally conscious without having to pay more. This innovative product contains performance enhancing organic polymers and proprietary humectants which keep the surface stable and dust free while using zero chlorides. DuraRenu works by binding the road surface particles together creating a denser, firmer road cap and eliminating the sliding hazards of loose dirt and gravel. DuraRenu absorbs quickly, thereby eliminating long road closures and operational headaches. DuraRenu is fully biodegradable and does not leach into the surrounding environment, making it a truly ecologically sound solution to dust suppression.
Benefits & Features
Fast Acting: No need to close road, results almost immediate, usable with most soil types
Binding: Safer roads and driving conditions, longer lasting road stabilization, improved surface durability
Low Chloride: Better public relations, safe for a variety of environmentally sensitive areas
DUST CONTROL FOR ANY CLIMATE
DuraSynth is an organic synthetic product that is engineered to penetrate unpaved surfaces and effectively coat and bind fugitive dust and fi nes through cohesive mechanisms. DuraSynth effectively wets the soil creating a long term, reworkable surface that coats and weighs down the particulates without evaporating, leaching or freezing. It is an effective and environmentally friendly dust abatement system that allows for the conservation of water and other resources that would be used in applying more traditional dust control products.
Benefits & Features
Chloride free
Organic & biodrgradable
Stays on the road longer than traditional dust control products
Works in all climates
Reworkable, improving the quality of the road
Does not require water or pre-wetting
Reduces the consumption of energy resources
Binds the soil and water together