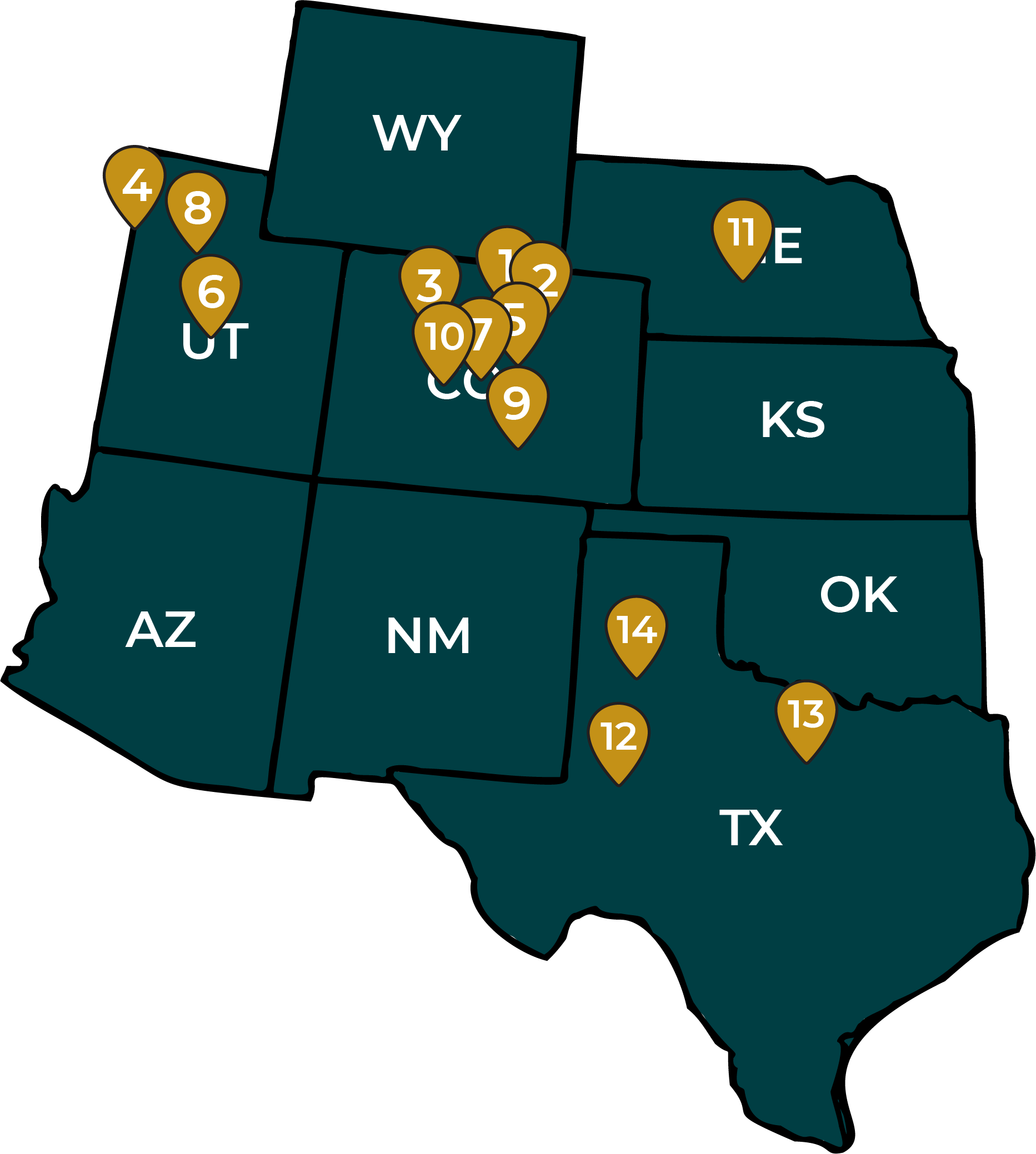 Greeley, CO


Shared Services Headquarters
910 54th Avenue, Greeley, CO 80634

Evans, CO


Evans Facility
6850 47th Ave, Evans, CO 80645
Glenwood Springs, CO
Glenwood Springs Plant
1186 Devereux Road Glenwood Springs, CO 81601

Wendover, UT


Wendover Plant
2 Frontage Rd Wendover, UT 84083
Henderson, CO
L.G. Everest
7321 E 88th Ave #200 Henderson, CO 80640
Redmond,UT
Redmond Hills, Inc.
6005 N 100 W Redmond, UT 84652

Denver, CO


Rocky Mountain Sales Center
3860 N. Revere St, Unit C, Denver CO 80239

Rowley, UT

Pueblo, CO

Denver, CO

Gothenburg, NE

Midland, TX

Cleburne, TX

Lubbock, TX
Rocky Mountain Region
The Rocky Mountain region is the original home to EnviroTech Services, Inc. and remains a primary presence within the ESI family. The use of magnesium chloride for both deicing and dust control along Colorado's Front Range was pioneered by EnviroTech. We take pride in our identity as the industry leader within the region and beyond.
Grounded in Innovation
The Rocky Mountain region is no doubt our home. We want to continue to build on our legacy of product innovation and environmental awareness to help our customers in this region meet and exceed their goals. To do that, we're constantly looking for ways to improve how we serve our market and customers.
Oil, Gas and More

We're focused on serving the evolving needs of the fast-growing oil and gas, fracking, mining, and construction markets in the region. We know that these booming industries are vital to the success of the Rocky Mountain region's economy today and in the future.
We're innovating and driving performance in our dust control, deicing, and soil stabilization products. Our efforts are improving capabilities and reducing the environmental impact of commodities, such as magnesium chloride used for deicing and dust control.
Phone Numbers
| | |
| --- | --- |
| Rocky Mountain Administration | 970-346-3900 |
| Rocky Mountain Orders | 800-577-5346 |
| Corporate/Administration | 800-369-3878 |
| EnviroTech Commercial Orders | 303-477-1919 |